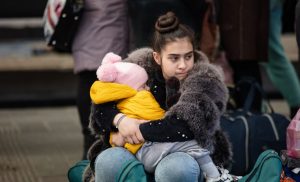 Whoever, Wherever, Whenever: Everyone has the right to seek safety!
Organized by the AICC – Association of International Chambers of Commerce in Switzerland, the Canadian-Swiss Chamber of Commerce is happy to invite you to this conference and networking event.
The AICC regroups 14 Chambers of Commerce in Geneva. We are expecting approximately 250 participants for this event.
The speaker will be Mrs. Gillian Triggs – Assistant Secretary-General and Assistant High Commissioner for Protection Office of the UN High Commissioner for Refugees (UNHCR).
DATE        8 November 2022
VENUE    Salle Frank-Martin, Rue de la Vallée 8, 1204 Geneva
PROGRAM
18h00 Welcome and Registration
18h45 Presentation followed by Q&A
19h30 Aperitif & Networking
ADMISSION FEES
CHF. 40 for Chamber Members
CHF. 65 for Non-Members
PREFERRED METHOD OF PAYMENT: BANK TRANSFER.
Beneficiary: Canadian-Swiss Chamber of Commerce
Bank: UBS AG, Postfach, CH-8098 ZürichAccount No.: 225-P2720227.0IBAN: CH57 0022 5225 P272 0227 0BIC: UBSWCHZH80APostcheck Konto: 01-4025-1
Credit Card payments : 1) first register directly and chose INVOICE as method of payment, 2) contact nathalie.bergeret@canswiss.ch to inform her and a Paypal link will be sent to you.