Farewell to Pamela Hay – Board member
16 August 2021
SWITZERLAND IN THE ARCTIC
11 October 2021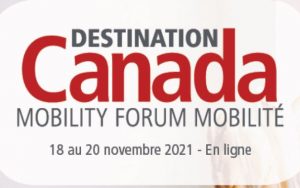 Destination Canada Mobility Forum 2021 will take place in VIRTUAL format on November 18, 19 and 20, 2021.
It is the must-attend event for expatriation to Canada.
Presented by the office of Immigration, Refugees and Citizenship Canada (IRCC) at the Canadian Embassy in Paris, this forum allows people interested in Canada to discover the possibilities of living and working in provinces and territories other than Quebec. Canada has hundreds of francophone communities across the country. This forum is an opportunity to meet them.
Destination Canada Mobility Forum is an information, recruitment and networking event whose objective is to help participants build and advance their mobility project to Canada.
Participants will have the opportunity to meet with more than 100 exhibitors at their virtual booths: Canadian employers, as well as representatives of the provinces and territories, cities and regions, Francophone community organizations and organizations that welcome newcomers. Conferences followed by question and answer periods will focus on immigration programs, the Canadian job market, entrepreneurship and tips on how to prepare for your departure.
Job offers in various fields will be published. Candidates who do not find a suitable job can still participate in the event to obtain information on Canada, on immigration programs, and to network.
Participation in the forum is free and by selection. Applications for participation are available online at https://destinationcanada2021.vfairs.com/en. A bilingual, English and French, Canadian format resume and the applicant's National Occupational Classification (NOC) code are required.
Invitations to the live online event will be sent out starting November 11. Up to 3,000 candidates will be invited each day to participate in the Live Forum. Those invited to attend the live event on November 18, 19 and 20 are invited based on the needs of the Canadian labour market and the job postings on the forum website. All registered visitors, whether invited to attend live or not, will have access to videos, conference recordings and backgrounders from November 22 to December 21, 2021.
Follow @DestCan on Twitter and Facebook for all information on the forum and on immigration to Canada outside Quebec.