AICC WEBINAR : EUROPE IN 2021 – 14 December 2020 at 7PM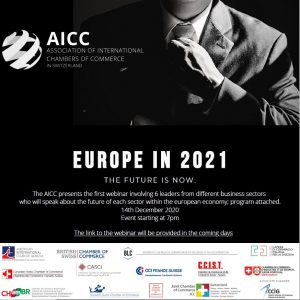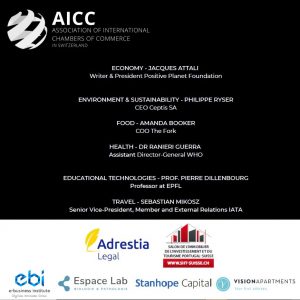 CLICK

HERE

TO PARTICIPATE TO THE WEBINAR.
The Association of International Chambers of Commerce (AICC) is pleased to invite you to its first webinar that will be held on Monday, the 14th of December from 7pm with the participation of six high-end speakers that will be discussing the future of Europe in 2021.
The themes and speakers will be:
Economy – JACQUES ATTALI Writer & President Positive Planet Foundation
Environment & Sustainability – PHILIPPE RYSER CEO Ceptis SA
Food – AMANDA BOOKER COO The Fork
Health – DR RANIERI GUERRA Assistant Director-General WHO
Educational Technologies – PROF. PIERRE DILLENBOURG Professor at EPFL
Travel – SEBASTIAN MIKOSZ Senior Vice-President, Member and External Relations IATA
The event will offer a great overview on how Europe is expected to look like in 2021 concerning economy, health, environment & sustainability, food, technology and travel.
Do not miss out, and spread the news!
The Canadian-Swiss chamber of Commerce.