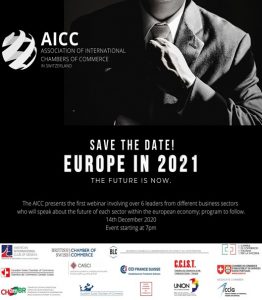 The Association of International Chambers of Commerce (AICC) is pleased to invite you to its first webinar that will be held on Monday, the 14th of December from 7pm with the participation of six high-end speakers that will be discussing the future of Europe in 2021.
The registration link will be available soon.
Stay tuned for the announcement of the speakers!
6 topics, 6 exceptional speakers & more than 1h of packed information.
The event will offer a great overview on how Europe is expected to look like in 2021 concerning economy, health, environment & sustainability, food, technology and travel.
Do not miss out, save the date!
The Canadian – Swiss Chamber of Commerce.