HOLIDAY APERO HO-HO ZURICH – 14 DECEMBER 2021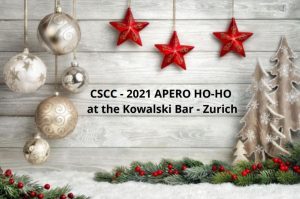 HOLIDAY APÉRO HO! HO!  – ZURICH
Christmas comes but once a year so don't miss out on some Holiday cheer!
Join us on Tuesday, December 14th at 6pm at the Oskar Kowalski Lounge in Zurich for the 2021 edition of the Holiday Apéro.
The participation fee (includes hot and cold appetizers and 2 beverages):
40 CHF per person
15 CHF per person, IF YOU REGISTER AS A NEW MEMBER FOR 2022 AND PAY YOUR MEMBERSHIP BEFORE DECEMBER 14TH.
Preferred payments : Paypal or bank transfer (see details on invoice). For those who would want to pay by credit card, please register first (chose INVOICE as way of payment) and then contact nathalie.bergeret@canswiss.ch to settle.
COVID-19: In order to be able to walk around and mingle, the new restriction 2G will be applied = only vaccinated and covid-cured people will be able to attend.