CSCC WEBINAR : CEO-SERIES INTERVIEW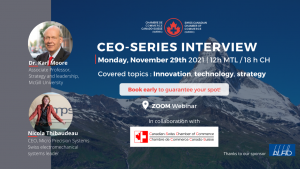 An out-of-the-ordinary apéro to kick off a stimulating week!
Join us at the Canadian-Swiss Chamber of Commerce on November 29 at 18h00 (6:00 pm Swiss time), for a CEO-Series interview between Dr. Karl Moore and the successful Swiss/Canadian entrepreneur, Ms. Nicola Thibaudeau.
Named as one of the world's greatest business thinkers, Dr. Karl Moore has shared his knowledge with the Universities of Oxford, Stanford, Harvard, and Cambridge and conducted interviews with none other than M. Justin Trudeau, M. Geoff Molson (Montreal Canadians), and M. Alain Bellemare (Bombardier). Recently nominated at the "Thinkers50" international Gala for his remarkable progress in management, Dr. Karl Moore still proves to this day that he is one of the lead thinkers in his field of expertise.
Throughout this interview, Karl will discuss innovation, technology, and strategy with none other than Ms. Nicola Thibaudeau, a mechanical engineer by training, CEO of the leading Swiss company MPS (Micro Precision Systems) which manufactures unique, miniature, and reliable high-precision electromechanical systems. A graduate from Ecole Polytechnique de Montréal and former IBM Canada engineer, Ms Thibaudeau pursued her remarkable and entrepreneurial career in Switzerland, leading to her current role as CEO of MPS Micro Precision Systems. She also shares her expertise and long professional experience as a member of several boards of private companies and state enterprises in Switzerland.
It is an incredible opportunity to share a moment with these two great business figures and we hope we can count you in.
We want to thank the Swiss-Canadian Chamber of Commerce (Quebec) in Montreal for the excellent collaboration in making this event possible.
COST
CSCC Members       FREE
Non-members         CHF. 10.–
PAYMENT: by bank transfer (see details on invoice) or Paypal.For those who would like to pay by credit card, please contact nathalie.bergeret@canswiss.ch directly AFTER having registered (chose INVOICE as mode of payment).
**** THE LINK WILL BE SENT OUT TO THE PARTICIPANTS THE DAY PRIOR TO THE EVENT ****