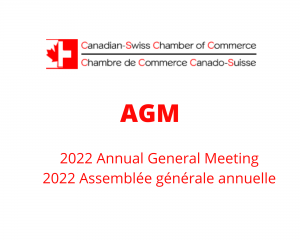 Dear Members.
This year marks my fifth year as your President of the Canadian-Swiss Chamber of Commerce. 2021 continued to bring us many challenges but as the year completed, we could see that 2022 would be a return mostly to normal. Faced with these challenges, we continued to provide you with many of our events and as we look forward into the rest of 2022, our calendar is very full. We are pleased to bring our Annual General Meeting back to Geneva.
Our AGM is again being held at The Permanent Mission of Canada to the Office of the United Nations. Our last time here was in 2017, when I was elected as the president.
Annual General Meeting
In accordance with the by-laws of the Chamber, I am pleased to give you notice of our Annual General Meeting to take place on Tuesday, June 21, 2021, at 6:00 pm at The Permanent Mission of Canada to the Office of the United Nations in Geneva. This wonderful property will be our host location and I hope many of you can attend.
This invitation also includes links to the agenda, proxy form and the 2021 financial statements of the Chamber. If you are unable to attend, please deliver your proxy to our mailing address or by e-mail at info@canswiss.ch. All proxies received before the meeting will be acknowledged and considered.
Special acknowledgements
This year I wanted to thank the continued efforts of our new Secretary General, Ms. Natalie Bergeret. She has really been critical in maintain our communications with you and ensuring that we are well organized to offer you all the services we can.
As we look forward to the rest of 2022, I know we will continue to remain connected and build on this network.
Yours truly,
Darren Downs – President
We will be honored with the presence of Ambassador Stephen de Boer who will also say a few words!
DATE     Tuesday 21 June 2022
VENUE  The Permanent Mission of Canada in Geneva, Rue de l'Ariana 5, 1202 Geneva
18:00    Registration
18:15   
Word of welcome from the CSCC President followed by the AGM
18:45    Cocktail
20:30    Close
FRAIS / COST (includes registration, snacks and beverages)
CHF.55.– for Members
CHF. 65.– for Non-Members
Payment can be done by bank transfer (see below) or paypal. Should you want to pay by credit card : 1) register and chose INVOICE as mode of payment, 2) contact nathalie.bergeret@canswiss.ch AFTER to inform her.
Beneficiary: Canadian-Swiss Chamber of Commerce /
Bank: UBS AG, Postfach, CH-8098 Zurich, Switzerland /
Account No.: 225-P2720227.0 /
IBAN: CH57 0022 5225 P272 0227 0 /
BIC: UBSWCHZH80A
**Registration mandatory. Refundable up to 72 hrs before event