SWITZERLAND IN THE ARCTIC
11 October 2021
CANADA DAY SALE
5 July 2022
On May 12th, we organized, in collaboration with the Canadian-Swiss Chamber of Commerce of Quebec, a webinar on investment and trade between Canada and Switzerland.
Please find HERE the link to the video of this webinar.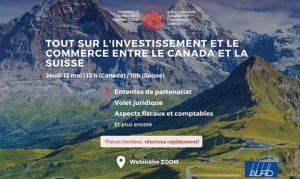 Switzerland and Canada have enjoyed a close bilateral relationship for many decades, based on shared values and strong trade relations. Come and learn the secrets of a successful business establishment between these two countries and the means at your disposal to market your products and services in your host country thanks to our panel of experts, composed of the law firms HFW and Lette & associés, the Swiss Business Hub, Montreal International and many others.
Partnership agreements, implementation, commercial contracts, legal aspects and tax aspects will be only a few of the terms discussed during this webinar, jointly organized with the Swiss-Canadian Chamber of Commerce of Quebec.