Canadian – Swiss Chamber of Commerce Golf Tournament
21 August 2020 - 11 h 00

à

21 h 00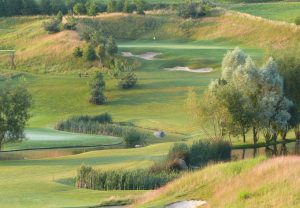 GOLF OF VUISSENS, CHEMIN DU CHATEAU 26, 1486 VUISSENS
Fellow golfers,
For the fifth time the enthusiasts of the Canadian-Swiss Chamber of Commerce together with Switzerland Global Enterprise have the pleasure to invite you to the friendly golf tournament in Vuissens. Spouses and friends are welcome, for the golf and/or for the meal. For the curious, there will be the possibility to do an initiation with a teacher.
This edition will be as friendly, yet more modest in form. In view of the economic situation linked to the pandemic, we have decided not to solicit all sponsors as before and the participation costs have been slightly increased.
Please confirm your interest and REGISTER HERE.
Details:
1. Date/Time: Friday, August 21, 2020; departures from 11:00 am to 2:00 pm, 7:00 pm aperitif and awards ceremony; 7:30 pm dinner
3. Formula: Framble (the best stableford of a four-man team, everyone plays his ball from the best ball position after the drive) – sufficient course clearance
4. Costs :
1. Golf and dinner : CHF180 / 100 for Vuissens members
2. Golf and aperitif, without dinner : CHF125.00 / 55.00 for Vuissens members
3. Aperitif and dinner (without golf, for guests): CHF65.
4. Initiation golf and dinner: on request depending on the number of participants
5. Payment: by August 15, 2020 to our UBS account or via Paypal (please mention: your name + Golf 2020)
For your safety, we will of course provide all measures in relation to the Covid-19 according to the OSFP rules.