Canada extends international travel ban
5 octobre 2020
NEWS FROM OUR MEMBERS : Andrée Wind at Wind Connections Agency
26 octobre 2020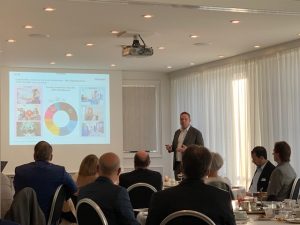 "Nowcasting": Economic and Market Strategy Outlook – A great CSCC Breakfast on October 8 with Vontobel's CIO Dan Scott
Dan Scott, Vontobel's Chief Investment Officer, presented us a vivid and compelling economic outlook last Thursday morning, at the CSCC Geneva Breakfast. Members and guests were delighted with the event and raised many questions. Forecasts are no longer the thing in today's volatile and complex world: inspired by meteorologists, macro-economists "nowcast", using complex and multiple data sources and judgments.
Global liquidity growth is skyrocketing to dizzying heights. After a global and regional economic growth outlook, Dan discussed the key market risk areas impacting Vontobel's investment philosophy, including a possible second Covid-19 wave, resurfacing trade war, US election of course and inflation spike. Smart healthcare, e-sports and gaming, sustainable investments, are among long-term trends to keep an eye on.
On the Canadian front, the Canadian economy has been hit hard by Covid-19, whereas the labor market has collapsed. However, the Canadian economy started to recover. Only a moderate CAD appreciation against the US Dollar is expected in 2021, as the massive US fiscal and monetary stimulus package has led to a stronger US recovery compared to Canada. In the short term, CAD gains against the CHF are more likely (but only moderate).
Dan Scott leaves us with this quote from Bill Gates: "We always overestimate the change that will occur in the next two years and underestimate the change that will occur in the next ten. Don't let yourself be lulled into inaction."
Vontobel is a valued corporate member of our Chamber.