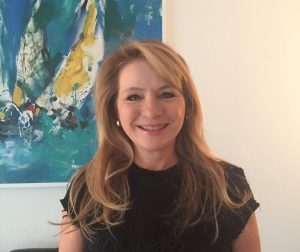 This week, meet Andrée Wind, founder and managing partner of Wind Connections Agency and member of the Canadian-Swiss Chamber of Commerce since 2008.
Andrée Wind is founder/owner and managing partner of Wind Connections Agency.  Since over 18 years, Wind Connections offers placement services for Au pairs and nannies/house employees in the Swiss market and also places Swiss Au pairs abroad. Andrée was born in Sherbrooke, Quebec and lives in Erlenbach (Canton Zürich). She is a member of the Board of Directors of the Canadian-Swiss Chamber of Commerce since 2008 and on the Executive Committee since 2014.
If you wish to participate in our members news, contact-us!
Andrée, how are you doing? How did the Covid crisis affect your activities?
Wind Connections offers placement services for Au pairs (aupairlink.ch), and Nannies/House employees (www.nannylink.ch) in the Swiss market since 2002. We are a reference in the field and are currently the only Swiss agency recognized as a full voting member of IAPA (International Au pair Association).
So 2020 is certainly a difficult year for us.  Between March and July 2020, hardly any Au pair or Nanny candidates from abroad were permitted to start working in Switzerland. Some examples of challenges we faced included closed borders, lockdowns in Switzerland and in other countries that we work with, less international flights and more. As of summer 2020, new rules for candidates arriving from high-risk COVID-19 countries came into force and mandatory quarantines were imposed. We also had to cancel our trimestral meetings with Au pairs. As an agency, we must proactively search for new (ever changing) COVID_19 information and communicate the right steps to our clients on a timely basis. As a result, we put in a lot of extra work, but it is 100% worth it.
I am very proud of the host families, employers, Au pairs and Nannies who work with us. They are handling the crisis extremely well.
What sets Wind Connections apart from your competitors in the Swiss market?
We've never advertised our agency services, which means that most of our clients have come to us by recommendation. We are very protective of private information shared with us. We work in a highly secured IT environment, which I can access from anywhere in the world, so response time is very efficient all year long. We are the only Swiss agency recognized by IAPA (International Au Pair Association), which is a quality statement. We interview all host families / employers to better understand their needs and expectations and we interview all candidates to assess their strengths and talents. Our goal is to find the right match and set them up for success. We work with Swiss authorities, partner agencies, employers and employees on a professional, honest and timely basis.
We are now a leading agency in Switzerland.
Andrée, you have been serving the Swiss market for over 18 years through Wind Connections. What has been your journey?
I studied Business Administration at Sherbrooke University. Before founding Wind Connections in 2002, I gained international experience with Procter and Gamble in America, Europe and Asia. I always had a dream to become a successful entrepreneur. I probably inherited this drive from my grandmother, who was one of the rare female business founders/owners of her time. I am thankful for the years that I spent around the world with Procter & Gamble, working in cities such as Montreal, Toronto, Paris and Singapore, because I gained skills, experience and still enjoy a great network of friends and colleagues to this day. When I moved to Switzerland, I decided that it was time to take risks and create my own company. I looked for something that I liked, had potential for growth and that I could do better than competitors. I wanted to continue working on an international level and have a positive impact on people's lives. Our family's personal experience with Au pairs, the cultural exchange, language experience and discovery of different traditions also influenced my choice.
Wind Connections agency was established and recognized by SECO (State Secretariat for Economic Affairs) in 2002. In 2008, we obtained a license to place candidates in Liechtenstein. In 2016, we grew into being the only Swiss agency recognized as a full voting member of IAPA (International Au pair Association).
In parallel, we launched our Go Abroad program to provide international experience for Swiss Au pairs and we created a new division for nannies and house employees for the Swiss market. It started as a vision of bringing Canadian Au pairs to Switzerland, but it has grown into an international platform as we now work alongside over 30 partner agencies around the world.
How did this sector evolve in recent years? Has the environment changed significantly?
Since 2015, it has become more difficult to place non-EU candidates in Switzerland due to the work permit situation. The agency had to shift its recruiting efforts to stay within EU countries to meet the demand in Switzerland. This is an advantage for our clients, because EU candidates can prolong their work contract for a second year.
Finally, what prompted you to get involved in the Canadian-Swiss Chamber of Commerce?
I always believed in the Chamber's mission to promote and connect Swiss and Canadian businesses and professionals. It is an honor to have a leading role in reinforcing ties between both countries. The Chamber offers great networking opportunities and a chance to connect with top business leaders, as well as learning about different industries and their strategic impact in our countries.
If you wish to participate in our members news, contact-us!