Transport Canada fines two individuals for failing to wear masks during flight
22 septembre 2020
Vontobel breakfast conference at the Mandarin Oriental Geneva – 08.10.2020
12 octobre 2020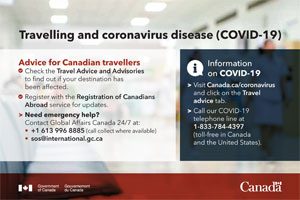 The Canadian Government once again extended emergency orders that restrict international travel and make mandatory 14-day quarantines for anyone entering the country during the coronavirus pandemic. The orders are extended for at least another month, the government said.
"Our government is extending the existing restrictions on international travel to Canada by one month — until September 30, 2020 — to limit the introduction and spread of COVID-19 in our communities," said Public Safety Minister Bill Blair in a Tweet sent out Friday afternoon. "Canadian citizens and permanent residents returning to Canada will continue to be subject to strict quarantine measures."
The ongoing restrictions prohibit all non-essential or discretionary travel to Canada from countries other than the United States. This includes any leisure travel, such as vacation and entertainment travel, for non-Canadian citizens or permanent residents.
Find out HERE more details on the restrictions and quarantine obligations currently applying to Canadian and Foreign Nationals