NEWS FROM OUR MEMBERS : PATRICK MICHAELS
1 février 2021
NEWS FROM OUR MEMBERS / NOUVELLES DE NOS MEMBRES : JOSEE BELANGER
12 avril 2021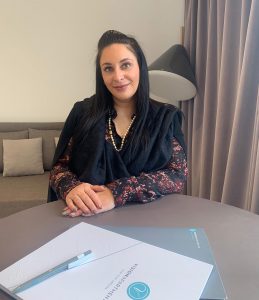 ISABELLE CHALIFOUR – OFFERING SERVICES APARTMENTS WHEREVER YOU WANT TO GO
THIS WEEK, MEET ISABELLE CHALIFOUR
As the Director of Sales at VISIONAPARTMENTS, Isabelle Chalifour specializes in renting out serviced apartments all around the world. With more than 7 years of experience in the sector, Isabelle represents VISIONAPARTMENTS' portfolio of over 1,800 flats. Moreover, she is in charge of selling the company's global partner apartments in 850 business locations worldwide. Her company also offers services shared offices, very convenient at this time. Isabelle lives in the French speaking part of Switzerland and has been a loyal member of the CSCC for 4 years.
Isabelle, how are you doing and how is your business faring in these difficult times?
On the personal level, I am doing great, thank you! Professionally, I am trying to stay positive despite the global pandemic and its impacts on our business. Unfortunately, for many hospitality providers, this is one of the most turbulent periods for the sector and wider economy. This crisis has caused a tremendous decrease in the numbers of bookings we receive, and a reduction of guests paying outstanding invoices. The result: a considerable cash-flow impact. The number of incoming tourists has practically vanished, but we can see a slight increase in long-term bookings or prolongations of people who are already staying with us. Additionally, we possess fewer resources to encounter these difficulties and are working with a limited number of employees. Naturally, we had to adjust the level of servicing and implement new safety procedures to protect our guests from COIVD-19.
What sets VISIONAPARTMENTS apart from your competitors in the Swiss market?
We offer a very attractive pricing – in some locations in Switzerland, the prices start at CHF 78/night or CHF 1180/month. Our accommodation solutions are extremely flexible; from the online bookings, 3D virtual viewing tours, to the automatic key code access in our buildings. Additional services, upgrades and prolongations can easily be organized. Simultaneously, we are maintaining a high service standard and offer additional facilities, such as fitness- and wellness areas or shared offices. Last but not least, clients receive their private mailbox, can register in the city and become official residents.
You have been serving your customers at VISIONAPARTMENTS for nearly 7 years now. How has been your journey as a Canadian expatriate in Switzerland?
I arrived in Switzerland at the age of 15. As might be expected, moving to another country during my adolescence was quite challenging. My Canadian French accent surely did not help. Today, I benefit from my international background; not only am I capable of easily adapting to different business environments, I demonstrate my intercultural skills on a daily basis. Needless to say, I often miss Canada. Especially now during the pandemic, travelling is difficult and I am not sure when I will go home again. Therefore, I am even more excited to be part of the CSCC.
How did your sector evolve in recent years? Has the environment changed significantly? 
When our CEO and Chairwoman Anja Graf opened her first property in 1999, the concept was novel in Switzerland. After more than 20 years, the number of competitors has increased. Our procedures have changed over the years – we went from advertisements in newspapers to highly automated online bookings. Furthermore, our client's expectations have grown – through review platforms and social media, the industry was revolutionized. To answer to these new demands, we are consistently working on providing innovative, state-of-the-art products. Soon, we will open new locations in Basel, Lugano and Zurich Glattbrugg.
Finally, what prompted you to join the Canadian-Swiss Chamber of Commerce?
Being Canadian expatriate in Switzerland, CSCC offers an excellent opportunity to be closer to my country and compatriots. The Chamber opens the doors to many multinational companies and members, and I have been able to expand my network, also during the events. At one event, I even ran into one of my family members whom I have not seen for ages!