UBS NO LONGER INVESTING IN CANADIAN OIL SANDS
24 August 2020
INTEGRATING IN THE SWISS JOB MARKET
8 September 2020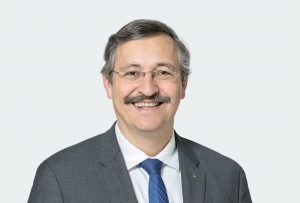 Since last Fall, bio-chemist and molecular biologist Michael Hengartner is the new president of the ETH Board. Mr Hengartner, a Swiss-Canadian citizen, has been rector of the University of Zurich since 2014. He has taken up his new post in February 2020.
Michael Hengartner was appointed rector of the University of Zurich in 2014. Since 2016, he has also served as president of Swiss universities, the umbrella organisation of the Swiss universities. Mr Hengartner grew up in Québec City. He is a dual citizen of Switzerland and Canada. He studied biochemistry at the Université Laval in Québec City. After earning his PhD in 1994 at the Massachusetts Institute of Technology with Nobel Laureate H. Robert Horvitz, he was head of a research group at the Cold Spring Harbor Laboratory in the United States until 2001. In 2001, he was appointed professor of molecular biology at the newly created Ernst Hadorn Chair at the Institute of Molecular Life Sciences at the University of Zurich. From 2009 to 2014, he acted as dean of the Faculty of Science.
Read the announcement on this LINK and a recent interview with HEIDI NEWS.