AIR CANADA FLASH INFO
3 May 2021
SAME PANDEMIC, 100 YEARS APART
14 June 2021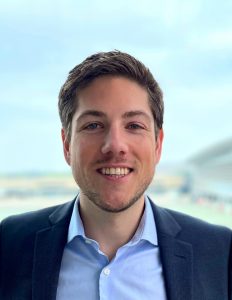 THIS WEEK MEET MARCEL HEINZER – Senior Manager Investor Relations & Treasury at Zurich Airport Ltd and private Investor.
Marcel lives in the city of Zurich and has been a loyal member of the CSCC since his return to Switzerland after a three-year stint in Canada. He is an avid reader for all kinds of books, but also loves spending time outdoors doing a variety of sports.
Marcel, you are an experienced financial manager in the midst of a stressed aviation industry. How are you doing in these difficult times?
Indeed it is undeniable that all airports and airlines have seen an unprecedented slump in passenger numbers. Fortunately, Zurich Airport had quite low levels of debt going into the crisis and, therefore, didn't need to make major staff cuts as of yet. Even though normal operations have not recovered, there are some crucial projects in the pipeline that I have the pleasure to be part of. For example, I am currently working on the planned public documentation of our sustainability activities or also on some financial tasks related to our new greenfield airport project in India. Although that work is fulfilling in its own ways, I am really looking forward to returning to normal life at the airport, and to witness the amazing emotions that only travelling can create in people.
You have both a Swiss and a Canadian background, can you share your career path in a few words?
After finishing my Bachelor's Degree in Finance at the Lucerne University of Applied Sciences and Arts and working for an equity fund for a few years, I decided to complete a Master's Degree at Simon Fraser University in Vancouver. While still studying in Vancouver, I found the opportunity to work full time at a new investment start-up company. This allowed me to work with some highly accomplished and seasoned businessmen and provided me with a lot of new experience. Because there were initially only three of us working together, I gained a variety of transferable skills from having to wear many hats in the role. Unfortunately, the company's plans didn't work out as expected and after roughly two years, it was decided that the business needed restructuring and we stopped investing. Although this was disappointing, the timing worked out, as it seemed to be a good point for me to return to Switzerland and look for a new challenge. This has led me to my role now at Zurich Airport.
You have also launched your own investment platform. What inspired you to do this?
I was hoping that someday somebody from the Canadian-Swiss Chamber of Commerce would notice and ask me for an entry in 'Meet our members' 🙂
Frankly speaking, creating an investment platform is simply a hobby to me. I have a passion for analyzing companies by digging through their balance sheets, trying to understand their business model and assessing their future potential. Due to the fact that it has never been easier than now in history to invest in start-up companies, I came up with the idea to launch a website, www.passiveincomecapital.com (there are also some other ideas in the pipeline – who knows what the future holds).
What is something unique about you?
As a result of participating in gymnastics during my childhood and teenage years, I am still able to do handsprings or handstands now – but not many people know this!
A last thought?
A good friend of mine is getting married in Canada next year! I really hope that everything will be back to normal by then so that I can, once again, enjoy the Canadian sense of humor, eat at the wide range of restaurants that Vancouver offers, and of course adventure in the beautiful BC countryside!